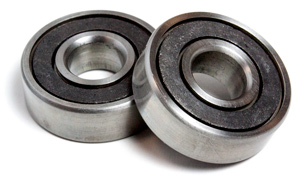 Ryson introduces new proprietary solid lube bearings for wash-down applications.
Ryson's new stainless steel wash-down bearings features an advanced proprietary solid lubricant, which is impervious to detergents, mild acids and bases. These bearings have no seals, can run completely immersed in liquids at any temperature and provide lubrication for the life of the bearings.
Standard stainless steel bearings have limitations. Strong detergents, foaming cleaners, detergent based transfer agents and high pressure or high temperature cleaning liquids will over time migrate past the bearing seals and eventuality dissolve the grease in standard bearings, resulting in reduced bearing life.
Standard stainless steel bearings are only suitable for for wet environments where the conveying surface can be cleaned with a mild cleaner and be rinsed with low temperature and low pressure water. We recommend the spiral run dry after cleaning.
This is another example of Ryson's commitment to provide products with a low total cost of ownership. For more information on the many benefits of the Ryson Spiral Conveyors, visit www.ryson.com, or download our brochure. You can also read more stories about wash-down spiral conveyors in our weekly blog.