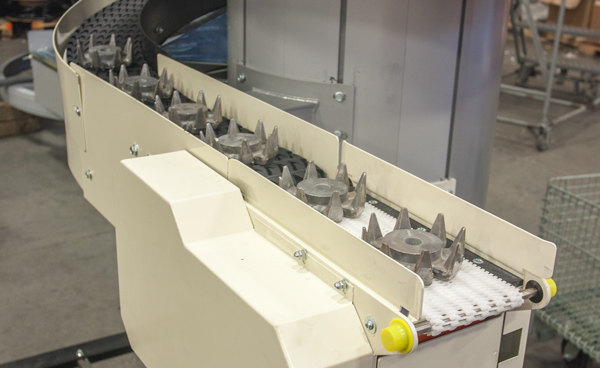 The Ryson Narrow Trak Spiral is designed to handle products that are too small to be conveyed on our standard sized spirals. Typically in the packaging and pharmaceutical sectors. This week we are shipping a narrow track spiral for a more industrial application.
This spiral will be going to a large automobile parts manufacturer. This 1100-150 Narrow Trak spiral will be handling metal parts fed from a press. The spiral has an 8.5 foot elevation change and will convey the parts into an overhead conveyor, on their way to the next machining process.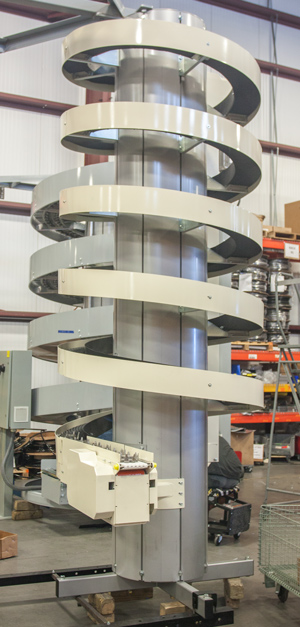 This 5 ¼ turn spiral will run on the line at 80 FPM, with a footprint of just 52". The biggest benefit to the customer was our proprietary design that allows the spiral to run with very little wear and tear in their abrasive environment — where  conveyors with dragging friction wouldn't last. The spiral also features our micro-pitch transfers on the infeed and discharge to allow the 3" to 4" diameter parts a smooth transition into and out of the spiral.
While visiting our Yorktown plant, the customer witnessed their parts running on our spirals and saw first hand the construction and inherent reliability of our design, and how our slats are supported by bearing carriers running on polyurethane tracks – only rolling friction.  The end-user became convinced our Narrow Trak was the ideal machine for their industrial application.
For more information about the Ryson Narrow Trak Spirals, you can read about them on our website, download the product spec sheet or read more application stories on our weekly news blog.