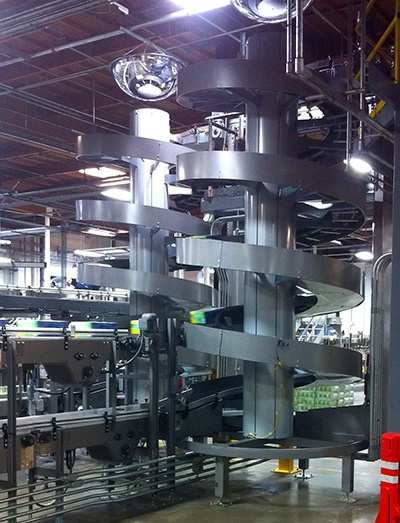 Our talented System Integrator partners have continued to find great applications for our Multiple Infeed Spiral Conveyors. With the use of our custom-designed induction conveyor, we can merge cases into any turn in any of our high capacity spiral conveyor models. This gives the end-user additional space-saving advantage, because they can combine multiple packaging lines into one spiral conveyor unit.
Our Integrator partner – Nercon Engineering and Manufacturing – recently applied this technology on a project for their customer, an international food and beverage manufacturer. Two Ryson HC1700-400 Case Spirals were installed, both with induction conveyors feeding a second line into the turn just above the spiral's infeed. Moderate case rates allows both the product lines to merge  in the spiral which inclines shrink-wrapped bundles to palletizers downstream.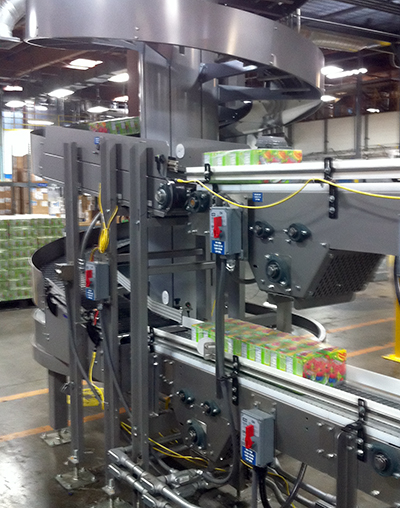 The Ryson Multiple Entry Spiral Conveyors are designed for  Multi-Tiered Product Flow and work best when loads are fairly uniform in size and weight. The induction conveyor belts are individually adjustable to match the spiral pitch. Traffic controls are required to prevent loads entering from different levels colliding in the spiral. If you would like more information on the Ryson Multiple Entry Spirals, visit www.ryson.com or download the Multiple Infeed Spiral Conveyors Brochure.