Multiple Exit Spirals: Exponential Space Savings.
Space-saving Multiple Exit Spirals allow multi-level product flow, allowing loads to exit a spiral at intermediate elevations… all with a single footprint.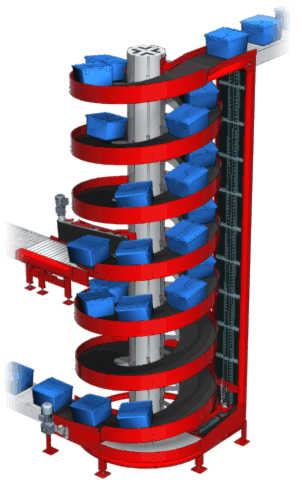 This is a perfect application for multi-level warehousing and pick module order picking operations. Loads are able to exit from  a single spiral at multiple elevations, saving valuable floorspace.
Ryson Spirals can also be configured to have loads enter the spiral at intermediate levels. Both options require a High Capacity or Wide Trak Spiral. The multiple entry and exit spirals are equipped with slats that have special rounded friction inserts. They provide just enough friction to prevent products from back sliding without preventing smooth side movement during induction or diverting out of the spiral.
The specialized and proprietary Divert Out Conveyors have a pivoting arm which incorporates a powered face belt assuring proper product orientation when diverting out of the spiral.  The powered out feed conveyor is similar to the induction conveyor in that they have individually adjustable rollers that allows you to match the spiral pitch, assuring a reliable product transfer out of the spiral.
Integrated traffic controls are required for all Multiple Entry and Exit Spirals.  There are some limitations with regards to the placement (location) of these ancillary conveyors, and the throughput capacity may be reduced,  so we encourage you to contact the Ryson sales team for layout assistance early in your project.
This concept is also commonly used in applications where a single spiral is utilized for multiple production or packaging lines. If you would like more information on the Ryson Multiple Entry or Exit Spirals, visit www.ryson.com, download the product information, or read application stories on our weekly blog.
We will also be displaying BOTH the Multiple Exit Spiral and Multiple Entry Spiral this year at PROMAT. Stop by and visit us in booth S2047.