The Ryson High Capacity Spiral Conveyors are designed in response to our customers' need to go higher and handle more weight.
These High Capacity Spiral Conveyors handle double the capacity of our regular spirals and ship in one piece which will drastically reduce the time and cost of installation. Ryson Spiral Conveyors need less floor space than conventional vertical conveyors and are faster and more reliable than any elevator or lift. The load capacity is 75 lbs. per linear foot of conveyor for speeds up to 200 FPM.  The total weight capacity in the spiral at any one time is 3600 lbs.  Only one drive motor is required, resulting in substantial savings in energy, controls, and system integration.
Ryson High Capacity Spirals operating in a liquor distribution center.
Multiple Entry Spirals.
The Multiple Entry Spirals allow loads to enter the spirals from several different elevations. A new high speed induction conveyor provides controlled spiral entry. The conveyor belts are individually adjustable to match the spiral pitch. Traffic controls are required to prevent loads entering from different levels colliding in the spiral.
Ryson High Capacity Spirals utilizing multiple entry in a 5-tier distribution center.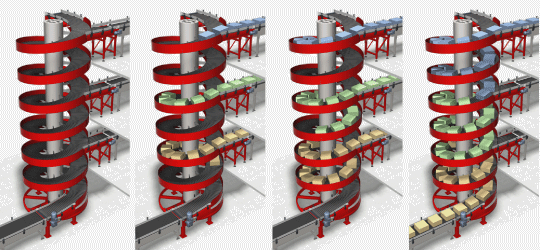 Click on Multi Entry Spirals to see video and download product spotlight PDF
Ryson is the number one manufacturer of Spiral Conveyors in the USA.
Visit us at Pack Expo 2011 in Las Vegas September 26 – 28. Booth 5215.