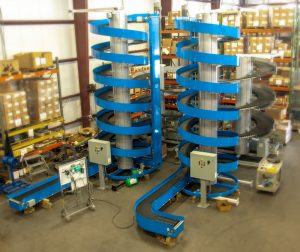 Some of the design features of the Ryson Spiral Conveyor can help reduce energy cost.
These two spirals with extended infeeds were recently inspected and shipped. They came complete with a self-contained control systems to a household chemicals manufacturer.
Ryson's proprietary modularity allows us to extend the lower section of our spirals … Infeeds in this case since they are up Spirals. This custom design feature helps reduce energy costs. In part because the extended infeeds eliminate the need for ancillary conveyors. It also reduces implementation time and controls wiring.
The system designer, ProcessPlus, took advantage of this design feature to extend the infeeds to the discharge conveyor from the case packers.  These Model 1500-400 spirals boast a 18 ½ feet elevation change.
The sealed cases that will run on the spirals include a short case with a very tall center of gravity, prompting our sales team to pre-test the product prior to accepting their PO. MDR (Motorized rollers) were also added to the infeed and discharge transitions to minimize un-motorized space in the transitions to prevent stalling.
Lastly, swivel feet were added to compensate for the end-user's uneven/sloped floors. Our customer took advantage of a few of our customizable options. To find out about more of our options, visit our Spiral Conveyors page, or read about custom applications on our weekly news blog.