Modular Design Aids Tight Installation
This week, we'd like to highlight a major benefit of our modular design. Because of surrounding structure and limited egress, the Spirals on this installation needed to be delivered disassembled and re-built at the install area. This tight installation is something we often encounter – especially with installs at existing facilities.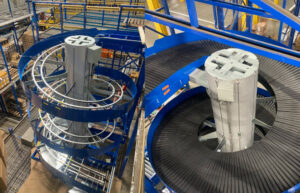 Our Service Team installed two model 1800-650 Spirals in two days. They also took the opportunity to share proper integration and preventative maintenance procedures with the end-user's maintenance staff.
These units replaced some belted inclines to satisfy the need for higher reliability and throughput. They selected Ryson Spirals due to their low maintenance, reliability and low total cost of ownership. Their performance demand and heavy load capabilities and tight installation flexibility were also part of the selection requirements.
The end user is a well known electronics wholesaler that has replaced a lot of different vertical conveyance technologies with the Ryson spirals previously. The integrator for this project is one of our trusted and long time partner Werres Corporation.
You can visit our Spirals Page if you would like more information about our Spiral Conveyors, or read more application stories about Spirals used for warehousing applications in our weekly news blog.