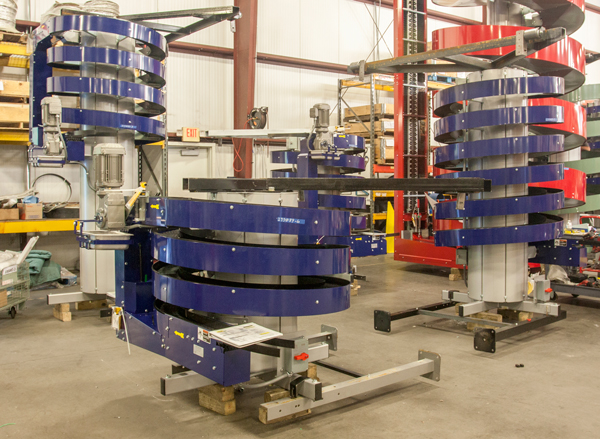 The Ryson modular design allows us to customize to meet our customer's application requirements.
Every application has it's own set of specific requirements. The most general is infeed and discharge elevations. Here's a batch of NT's going through production, each with different elevations and configurations.The angle of incline is configured to handle metal parts in the proper orientation at speeds up to 220 FPM.
This photo highlights a sense of how vastly configurable a Ryson Spiral can be. All models can operate up or down in a clockwise or counterclockwise rotation and can optionally be reversible.  The position and length of the in feed tangent on up spirals and out feed tangent on down spirals can be customized to meet specific layout requirements.
The Narrow Trak Spirals offer a significantly larger elevation change capacity than what is currently available in the small package marketplace. They are also a good alternative to side gripper conveyors because they can run at high speeds and do not need to be adjusted for varying product sizes. The Narrow Trak Spirals are especially beneficial for the food, beverage, pharmaceutical, nutraceutical, personal care market and food product companies.
For additional information on the Ryson Narrow Trak Spiral conveyors, you can visit the spec page, download the product brochure, or read more application stories on our weekly news blog.