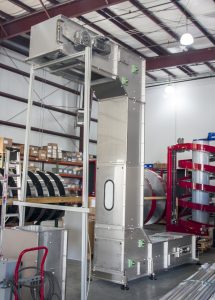 The Ryson Bucket Elevators come with many specialized options. This week, we are shipping a unit that features metal detectable buckets.
The specialty chemical industry sometimes requires specialized equipment and the Ryson Bucket Elevators are a perfect fit.  This chemical company customer needed to move 4000 lb/hr of delicate powder with a density of 25 lb/ft3, and at the same time be able to ensure no foreign materials corrupted their product. 
The use of our FDA approved Metal-Detectable (MD) poly buckets is a very cost effective alternative to stainless steel buckets.  Poly buckets are often used for food and specialty products.  However, in the unlikely event that a piece of the bucket is broken off, our standard bucket material will not be picked up by metal detectors.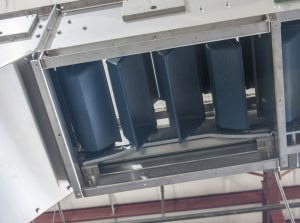 These special MD buckets incorporate a fine iron matrix into the Poly substrate while maintaining the FDA approval standard. So if any piece ends up in the product, it can be detected and removed prior to final packaging. 
The customer already has Ryson Bucket Elevators onsite and wanted to continue with the Ryson stainless steel series Z-200. Read more details about the Ryson Bucket Elevators, or application stories from our weekly blog, or download a product spec sheet.