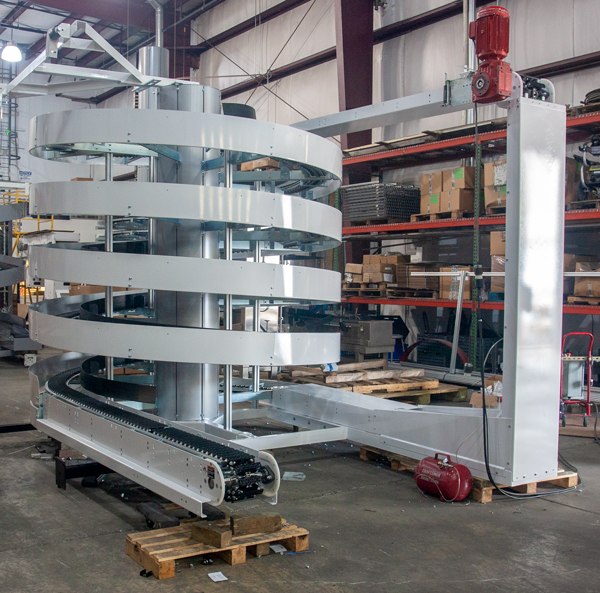 This week, we are sending a large Mass Flow Spiral to Brazil. This International Shipping will  be transported on a sea container. It will need to be partially dismantled prior to shipping due to container constraints.
Ryson continues to grow its presence in South America.We are utilizing our strengths in the bottling industry to partner with new integrators. We are working with UPTON  to help AmBev with a new bottling line. The will be installing 2 new 2300-400 Ryson Mass Flow spirals.
AmBev, is a major international producer of bottled beverages.  They needed to convey bottles vertically. This is a specialized challenge and becomes even more so as the bottles become taller.  They turned to UPTON with many years of quality service and experience in the bottling industry in Brazil. 
The plan is to convey empty glass bottles at 500 /min that are more than 88 mm diameter and 320mm tall.  Fortunately for AmBev, the Ryson model 2300-400 is ideally suited.
International Shipping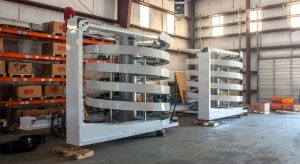 Another challenge is that a spiral of that size must ship partially disassembled to fit in a sea container.  Thanks to the modularity in design and function, the Ryson spirals are very popular with installers and maintenance personnel.   While most spirals ship fully assembled, the entire Ryson family of Spirals is designed to be able to come apart as needed. This is useful to ship, and reassemble on site with modest effort and few tools.  It is also an enormous benefit to be able to make changes to the spiral. Ryson spirals can be field modified to fit future layout changes.
Thorough documentation will accompany the spiral on how to reassemble the spiral when it arrives in Brazil. Ryson has seen an increased amount of business to Latin America. In addition, since we are now a Part of Apollo Group, we offer sales, service and support worldwide.
For more information about Ryson's line of Mass Flow Spiral Conveyors, Visit our Mass Flow Page, Download the brochure, or read other application stories on our weekly blog. You can also check out the video below.