This week we welcomed one of our Japanese Integrator Partners for some product testing and training.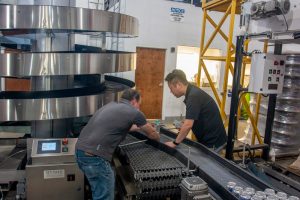 DI Engineering has started marketing our Mass Flow Spiral Conveyors in their beverage markets in Japan. They sent their sales rep to us to get some detailed hands-on training. We spent the day with Taz going through applications, options, specifications and Integration details. He also brought in some PET bottle samples for perform some product testing while he was here.
Ryson Spiral Conveyors are gaining traction outside of the US. It is always nice to welcome guests that are interested in our product line. Since we are member of  Apollo Group, our products have a completely global reach and support system.
Integrators and customers alike are encouraged to visit our plant right here in Yorktown, Virgina. We are always happy to have sit-down meetings about the details of our vertical conveying solutions. Our service team is also happy to give hands-on training on proper maintenance procedures. We also welcome product testing and FAT visits.
Site visits are one way Ryson shows its commitment to customer service and satisfaction. If you would like more information about our spiral conveyors, read more on our site. You can also read about current application examples on our weekly news blog.