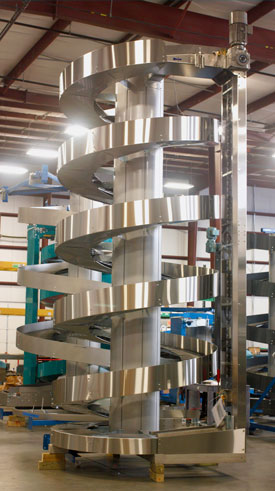 Ryson values it's relationship with their integration partners. Many have come to expect a high level of cooperation from engineering to service with our vertical conveying solutions.
This week we are shipping a stainless steel spiral to a Safeway Dairy in California through our integration partner IPM – (Integrated Packaging Machinery) Below is their account of why they chose Ryson Vertical Conveying with our vertical conveying solutions.
"Over the past few years IPM  has come to appreciate the benefits of a Ryson spiral lift over belt inclines or vertical lifts.  The Safeway project had very limited floor space to even attempt a belt incline.  The customer wanted a guarantee of uptime efficiency over 98% for each piece of equipment which made it necessary to choose a Ryson spiral for vertical transportation.  The spiral lift met the needs of limited space, throughput rates, multiple case sizes and the hybrid stainless steel feature will help withstand the humid environment of a dairy facility."
If you have application questions about Ryson's Vertical Conveying Solutions, please visit www.ryson.com. You can read more customer service stories on our weekly blog.