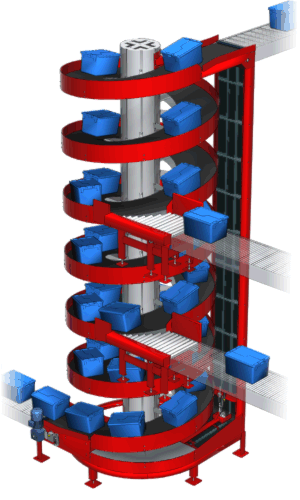 Ryson High Capacity Spiral Conveyors have the ability to induct and divert out at intermediate elevations. This is especially useful in multi-tier pick modules and warehousing. It allows a single space saving spiral to service multiple levels. The cost and space savings is exponential.
The video below shows some recent applications where Ryson Spirals are used to induct or divert out at intermediate points. There are 2 main operating modes for the induction operation. The first is where controls are applied to find a gap in the product flow to induct the loads, the other is a "batch" induction where "slugs" are introduced to the spiral at the same time.
The special induction and divert conveyors have individually adjustable conveying surfaces to match the spiral pitch, assuring a smooth and reliable operation.
If you would like more information on the Ryson Spirals with intermediate level induction or divert out, visit www.ryson.com, download our brochure, or read more application stories on our weekly blog.