This week we are shipping a tall stainless steel wash down hybrid spiral to a bakery in Minnesota. The spiral will handle frozen baked goods like baguettes and ciabatta breads.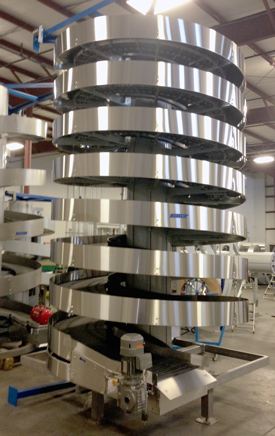 The frozen products exit a spiral freezer at an 16′ – 0″ elevation. A new Ryson Spiral Conveyor transports the products down to a floor level packing line where they are bagged, checked and conveyed to a cartoning operation.
The spiral  has 7 1/4 counter-clockwise turns with a declination angle of less than 5 degrees which assures the products will not slide while declining. A special stainless steel slider plate facilitates smooth product transfer at the spiral's in and out feeds. The stainless steel hybrid spiral models are made with a powder coated aluminum center tube. All Bearings are made of stainless steel suitable for wash down applications.
The integrator on this project is Skarnes, Inc. Ryson spirals minimize the footprint for vertical conveying and have many additional advantages over conventional methods.  For more information on the kinds of applications Ryson Spiral Conveyors are ideal for, visit www.ryson.com.