Ryson has been busy in 2009 – In addition to having a successful year of production and service, we have added three new specialized spiral conveyors to our arsenal of vertical conveying solutions.
Dual Track Spiral Conveyors: Two tracks operate independently within one spiral structure. Both tracks can go up or down, and can optionally be reversible. This is incredibly useful if space is extremely limited and you need to convey items up and down, handle two streams using the same footprint, or move products to and from multiple levels.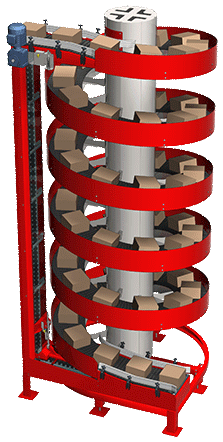 High Capacity Spiral Lifts: The new Ryson High Capacity Spirals are in response to our customers need to go higher and handle more weight. This is particularly useful in multi-level order picking systems and the beverage industry as cartons of product are getting bigger and bigger – The Ryson High Capacity Spiral conveyors are in a class of their own – Nothing else comes close.
Multiple Entry Spiral Conveyors: Is a solution for multi-tiered product flow that facilitates flow from multiple levels on to one spiral. Multi level order picking systems are a prime candidate for this practical vertical conveying solution.
We are looking forward to 2010 and applying our new machines and concepts to meet more of our customer's needs. With that, we'd like to wish you the happiest of Holidays and a Fantastic New Year, filled with passion and success for you all!  — The Ryson Spiral Team