"Ryson Spirals are Delightfully Flexible" That's what John Davis of Vermillion Conveyor Systems said about our ability to create spiral configurations to meet his layout challenges for a major food manufacturer's case handling system.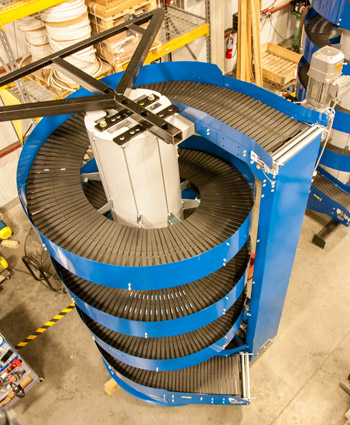 The spiral Vermillion Conveyor Systems ordered ships next week and is our Model 1300-400 with a 9'-0" elevation change.  The facility and line layout offered our  integrator partner a challenge and the Ryson engineering team was able to solve it with a custom modification of our standard "D" configuration. The discharge is at a custom angle, which allowed it to seamlessly fit in the layout and save valuable floor space.
Since the Ryson Spirals are modular, custom design is used to optimize the layouts of each job. Spiral configurations include infeed, outfeed, speed, color, angle of incline and infeed/discharge tangents are all calculated to each specific project. If you would like more information on the modularity and configurability of our spirals, read more at www.ryson.com or download our new brochure.