Last week our service team went out to support a fast implementation installation of  a Ryson Wide Trak Spiral model 2200-760. This spiral is also equipped with a mid-level induction conveyor.  This project was installed in an existing and operational distribution center in the Indianapolis area for a well-known end user in the sportswear arena.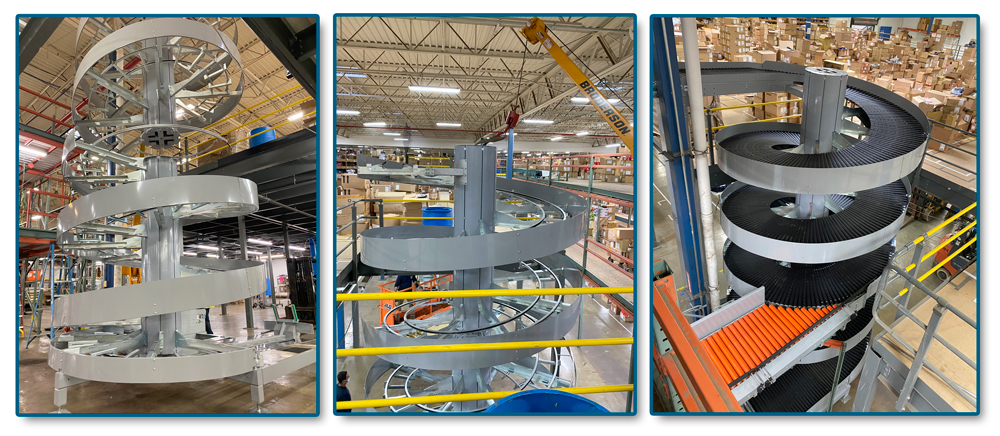 To avoid production down-time, the spiral installation needed to happen over a weekend. Also the commissioning and integration of  the subsystem needed to be completed in the following couple of days.  Our integrator partner, Associated, got the job done in a timely manner.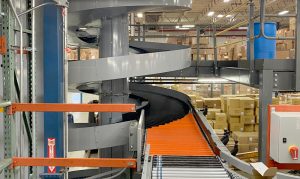 The Ryson Spiral is a great solution for vertical conveying of large products in tight spaces. The modularity or our design allows our clients to request the units to be built in multiple pieces. This is typically done when the installation area is very tight, or the spiral needs to go through an existing  floor opening. The reassembly and installation process of multi-piece spirals are generally the same as one-piece spirals. Neither typically take more than a day or two to install – even for our bigger units.
Our service tech also made a few courtesy calls between the installation and start-up support. Ryson attempts to make courtesy calls and last-minute training requests for other customers in the area.  These visits fall under our dedication to total cost of ownership.
For more information about our multi-level spiral conveyors that can induct or divert at intermediate levels, visit our Multi Infeed page. You can can also read more multi-level application stories on our weekly news blog.