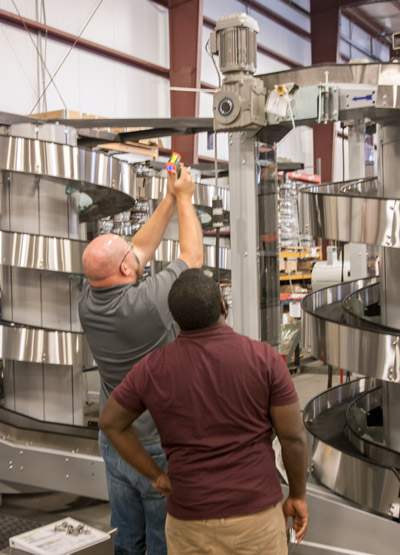 Last week, we welcomed engineering and plant maintenance people from a prominent personal care products manufacturer to our Yorktown, Virginia manufacturing facility for some factory acceptance tests.
They were here to inspect their four 1200-200 spiral conveyors in a Factory Acceptance Test. A four hour dry run was done while periodically monitoring motor amperage draw and the temperatures of the motors and gearboxes.
Product test runs were performed while verifying the elevations and getting versed on system integration and installation details. Finally, we reviewed spiral preventive maintenance and went over the recommended spare parts and documentation shipping with the machines.
We were glad to have had them in and they were appreciative that we met their very aggressive lead time schedule of 4 weeks for the (4) spirals.
For more information about Ryson's Vertical Conveying Solutions, check out www.ryson.com. You can also read more stories about past factory acceptance tests we have hosted.