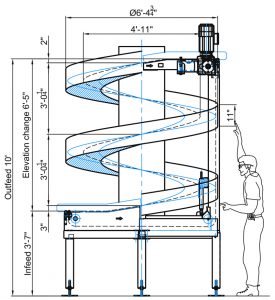 Ryson Spirals are completely modular and custom built to each unique application. This flexibility allows an efficient and ideal solution to each project.
Modularity often limits the design to standard configurations, however  Ryson's spirals modularity does not limit flexibility.  In fact, each spiral is uniquely configured from standard components and sub-assemblies to meet the unique needs of each application.  Ryson spirals are custom built to match the incoming and outgoing conveyor locations and elevations and the spiral can be designed to rotate either clockwise or counter clockwise.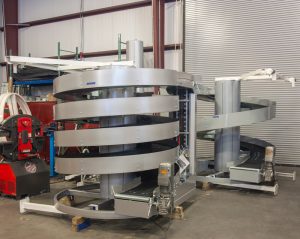 The incline/decline angle of each spiral is also customized to best fit the application.  Some loads are less stable or slicker requiring a lower angle.  By varying the number of turns and the centerline diameter of the spiral, Ryson is able to provide a spiral that optimally transports the loads being handled.  Changing the inclination/declination angle of the turns and the diameter also allows the spiral to handle taller loads.
In addition to changing the angle, with slick loads like plastic totes or frost covered boxes or very high-speed spirals, the amount of friction on the slats can be increased.  Not every slat needs to have a high friction coating, in fact for normal boxes the best transportation occurs when only one or two slats in the length of the load have friction.  However, when the loads are slick more friction helps, so Ryson designed the chain and slats so that the amount of friction can be customized to the loads being handled.
These are just a few of the ways that Ryson's modular spiral design allows the spiral to be customized to fits the application's requirements. To find out more information about the many custom-built options, visit our Spiral Conveyors page, or read about current applications in our weekly news blog. You can also find out more information on our own YouTube channel.