This week we're shipping a spiral to a Distribution Center with new pre-wired control options.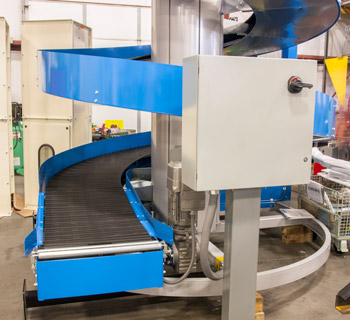 Our Integrator partner, Conveyor Solutions Inc., requested a pre-wired Spiral Conveyor. Their master control panel was remote, requiring a local mounting of a NEMA 12 control enclosure that incorporated a panel mounted disconnect and a VFD (variable frequency drive).  The VFD was wired so that the integrator could control the spiral with a few digital inputs, and also have the spiral safeties (slack chain and motor over-torque) prewired, so they could be integrated easily.
The ease of implementation and lower cost of us doing that in our factory saved money and installation time.
Most of our Spiral Conveyors are shipped without controls because they normally integrate with an overall conveyor control system. Our spirals always include an inverter duty gear motor and two proximity sensors, one for the automatic chain tensioner and one for the overload protection device. Ryson offers a number of other pre-wiring  and control options.  For more information about Ryson Spiral Conveyor options, visit www.ryson.com.