The Ryson High Capacity Spirals with optional Multi Induction or Divert Out Conveyors are making an impact in the retail world. These spirals are perfect for distribution centers and order picking systems.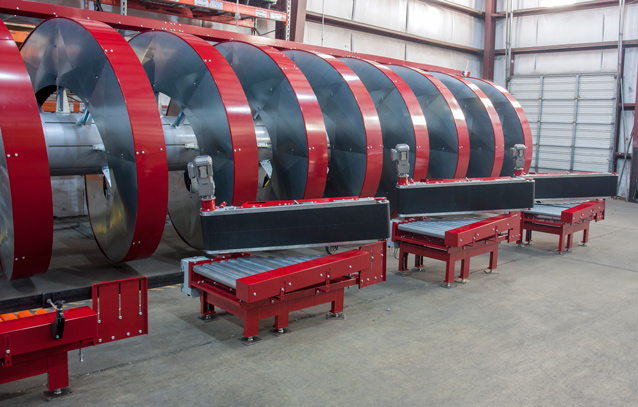 This week we shipped two High Capacity Spirals to a major retail designer and distributor right outside of New York City. The first spiral will have three induction conveyors and the second one will have three divert out conveyors. The Ryson High Capacity Spiral Conveyors are perfect for this application due to the size of the products.
The model 1700-600 spirals will be elevating and bringing down sealed cartons and totes 30' at a speed of 150 fpm. Both spirals will be supplied by and feeding to three picking levels. The induction and divert out conveyors are designed specifically to work with Ryson High Capacity Spirals and becomes an integral part of the spirals.
The Induction Conveyors have a new powered roller design where the rollers are individually adjustable to match the the spiral pitch, assuring a safe and reliable product transfer.
The Divert Out arm pivots across the spiral slats when diverting out. It incorporates a powered face belt, which assures proper product orientation when diverted out of the spiral. The outfeed conveyors also have an adjustable surface to match the spiral pitch, facilitating smooth product transfer out of the spiral.
The spirals were shipped  for our Integrator Partner, TGW Conveyor Systems. The spirals were manufactured, built and shipped in only 8 weeks. They were shipped fully assembled which will reduce the installation and integration time. For more information about Ryson High Capacity Spiral Conveyors, visit www.ryson.com, read installation stories from our blog, or download our Multiple Entry and Exit Spiral brochure.