Unlike Ryson's normal Hybrid Wash down spiral unit, the Ryson all-stainless steel wash down spiral design does not accommodate easy field changes once it's built for a certain elevation change and configuration. However, if the future changes are known at the time of purchase, we can customize spirals to be easily modified later on.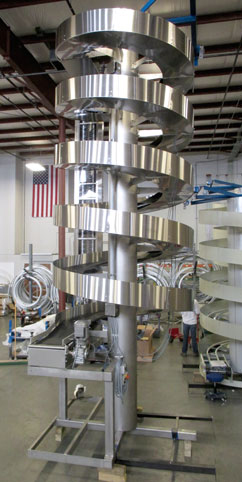 That's the case for this spiral. Our Integrator partner, Packaging Machinery Systems, required a down spiral for their customer (a large poultry processor), transporting empty cases from an automatic case erector on the adjacent mezzanine, down to the manual hand pack stations at a discharge elevation of 50".
The future plans for the client is to purchase automatic case packers, which require a lower discharge elevation. The Ryson design team came up with a modular base and leg structure that allows the addition of another turn to the spiral, when the new packers are installed. We  shipped the modification "kit" with the machine.
Ryson also designed and built self-contained controls to interface with their case erector and control the speed of the spiral so that each case size would be fed at just the right speed to keep pace with the packing operation. This is the fifth spiral purchased by this end-user.
Please contact Ryson if you would like additional information on our Spiral Conveyors and how they could be beneficial to your conveying needs.