The Ryson modular design allows many custom spiral configurations that can be tailor fit to optimize the efficiency of an application.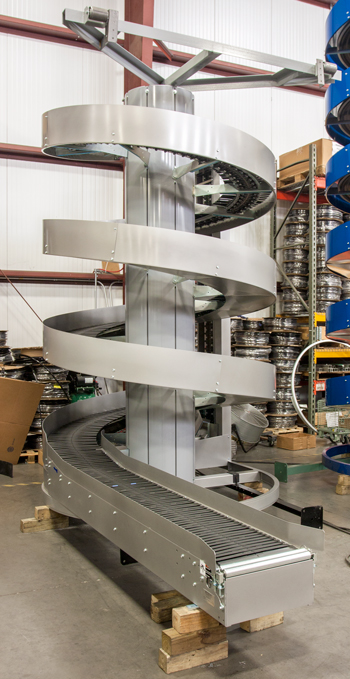 This week, we shipped a spiral, model 1500-400 to a Dairy Products Manufacturer for our Integrator partner ScottTech Integrated Solutions. The spiral is used to feed empty cases from an automated case erector to a packing station on a second floor mezzanine platform.
Our design allowed the integrator to extend the spiral's infeed 6 feet out to the case erector discharge. This saved an additional conveyor drive section (along with controls, integration, installation, etc.) and also saves energy, as the extension is driven by the spiral conveyor motor (2HP).
Lowering the total cost of ownership is an advantage Ryson strives to maximize. The modular design of our spirals allows many custom configuration options that can optimize efficiency and minimize maintenance and integration issues.
Read more stories about how Ryson can help reduce your total cost of ownership, or find out more about Ryson Spiral Conveyors.