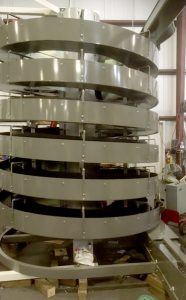 This week we shipped three of our Mass Flow Spirals for a retort processing operation. These Spirals highlight the advantages of our standard design options as well as some custom ones.
Our Integrator Partner Arrow Conveyor specified three of our model 1900-260 Mass Flow Spirals for this retort processing job. The Spirals' 10" wide conveying surface will transport unlabeled cans of condensed milk to and from a retort machine. Then send them to labeling and case packing. They are built with custom designed divided lanes within the spiral. This allows a rate of 800 cans per minute – 400 cpm per lane.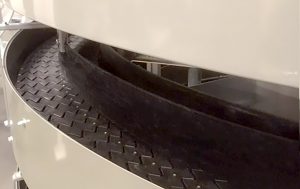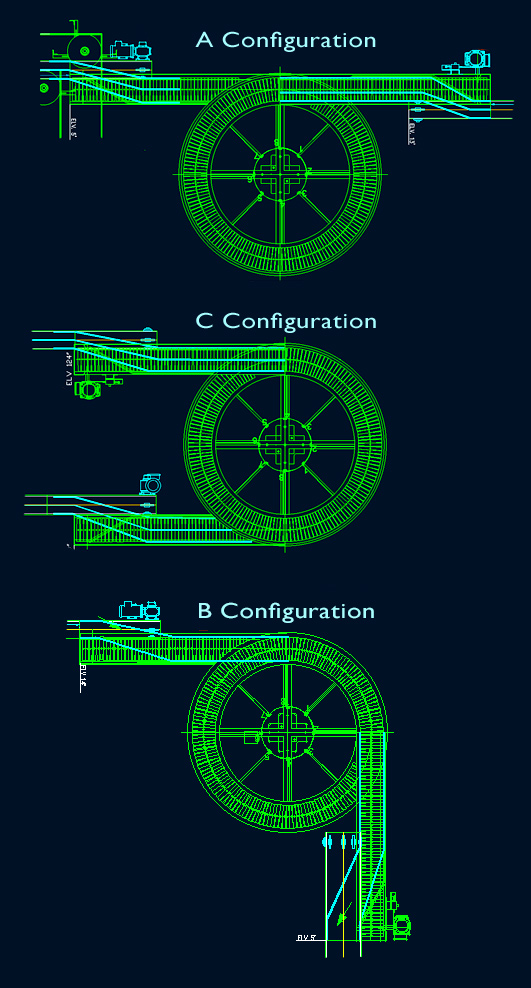 The Spirals will achieve 10' and 14' elevation changes in the plant. Additionally, not all of the spirals needed to be configured for a wet environment. So a combination of powder coated and Hybrid stainless steel machines were specified. This option saved the project considerable money.
This job also highlights another customization feature. All three spirals have different infeed and outfeed orientations. See the chart to the right. These configuration options can save valuable floor space and helps streamline your process footprint.
With all of the spiral customization options, Ryson conveyors can help reduce your total cost of ownership… From efficient layout, to low power consumption to minimal maintenance and down time. For more information about Ryson's Mass Flow Spiral Conveyors, Visit our Mass Flow Page, download their brochure. The video below is also a nice product overview.