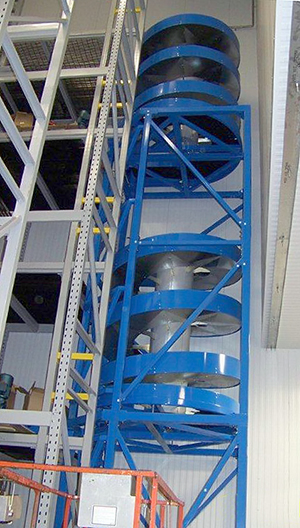 Sometimes Ryson Spiral Conveyors require extended legs and support structures. This is common when a spiral feeds an overhead conveyor through the floor above or in distribution centers and warehouse facilities where multiple level mezzanine structures are used.
The Ryson engineering team is happy to work with our Integrators to furnish the spirals with extended legs to support the machine. Ryson fabricates custom support structures in a modular panel design to allow for easier shipping, handling and egress to the installation area.
In the project pictured here, the support structure enabled totes to decline from pick level 5 to pick level 4, then from pick level 3 to the 2nd level. Our Systems Integrator on this project was Abel-Womack. For more information on Ryson Spirals and how they are used for vertical conveying in warehousing and distribution centers visit www.ryson.com.