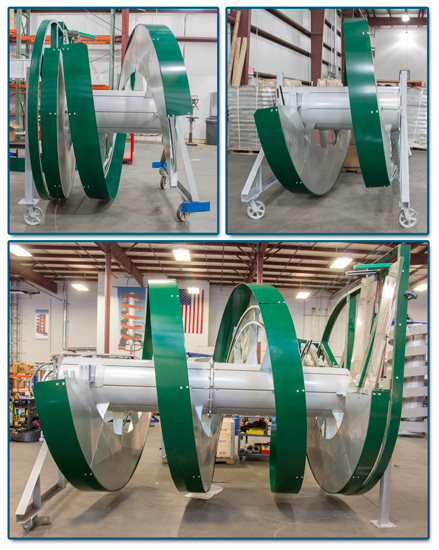 This week we shipped the last of ten spiral conveyors to be installed in an existing distribution center in Ontario, Canada. Our Integrator partner, Dematic Corp., is upgrading an existing picking system and replacing old, out-dated belt curve spirals with our Model 1700-600 –EX spiral conveyors.
These last two spirals were manufactured to ship in two sections because they needed to be transported down a narrow aisle in the floor level of a pick module.
The spirals will be installed at the end of the row against a wall with restricted width and height availability. We designed  them in two sections and built special shipping frames to allow them to pushed by hand to where they will be rigged up through the second floor deck opening and spliced together.
A Ryson Service Tech will be on site to assist Dematic's installation team in the rigging and re-assembly of the spirals.
Our modular spiral conveyor design allows our spirals to be shipped in multiple pieces; normally because of limited facility passageway space or when the spirals are used in floor-to-floor applications. For more information on Ryson's Modular Spiral Conveyor Design, visit www.ryson.com.