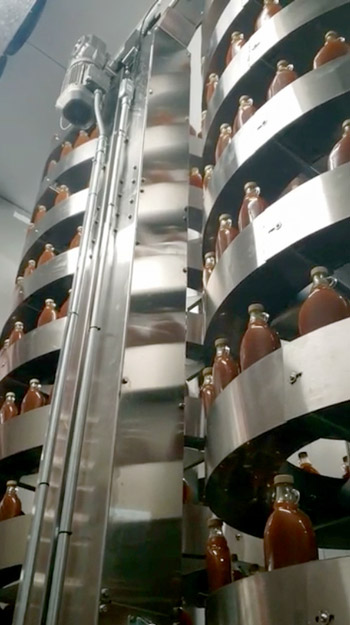 Our Integrator partner, Pendergraph Machines just completed a new turn-key vertical cooling buffer system using two of our Model 1100-150 Narrow Trak spirals.
To speed up production and eliminate a bottle-neck in his customer's production, they designed a compact  vertical cooling buffer system, consisting of an 8-turn up spiral and an 8-turn down spiral in a modular cooler enclosure (35 degrees) to enable the forced cool-down of glass bottles of hot-filled syrups. Watch the brief production clip below.
The spirals (totaling over 180 feet of travel) are running at about 15 FPM and by the time they exit the room, they are ready to be case packed and shipped.
The compact footprint of the spirals allowed Pendergraph to reduce the overall footprint of the chilled room to fit in the limited space available in the filling and packaging area of the plant.
The spiral construction is our Hybrid Stainless steel, suitable for wet environments. The nesting slats of the Narrow Trak have the capacity to reliably end-transfer small cartons and packages or side-transfer small bottles or containers in a single file or in a continuous mass flow.  The spiral conveyors can be equipped with our  6" or 9" wide nesting slats which provide an efficient flat conveying surface without gaps.
For more information about our Narrow Trak Spirals, visit our information page, download the brochure, or read more application stories on our weekly news blog.