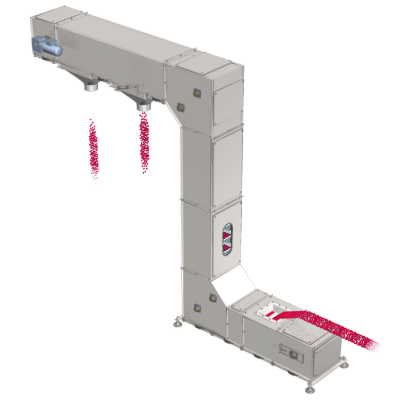 This month Packaging Strategies Today published a nice story about the evolving uses for Bucket Elevators.
Ryson Bucket Elevators are a robust, yet gentle-handling bucket conveyor. They are ideal for conveying bulk products both horizontally and vertically. They can be configured to meet your needs because of their modular design. Although "C" and "Z" configurations are the most common, any kind of shape is possible.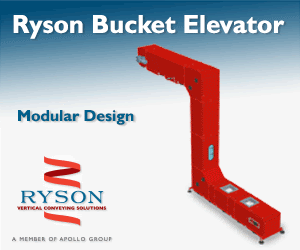 Ryson Bucket Elevators are designed for gentle handling. They are also well suited for a broad range of bulk products in the food, agriculture, pharmaceutical, chemical, metallurgical and other industries. The buckets are overlapping at the inlets to prevent spillage. Additionally, they and can be selectively tipped at the outlets. Our Bucket Conveyors available with three different bucket sizes, yielding capacities up to 300, 700 or 1800 cubic feet per hour respectively.
"Material handling is  a pivotal aspect of packaging operations, and the market for bucket elevators is flourishing. In fact, industry analysts anticipate a compound annual growth rate of 5.7% for these conveyance systems through 2026. Fast, gentle and precise material handling are key characteristics driving up demand for continuous bucket elevators, and a compact footprint, energy efficiency, durability and low maintenance costs make these systems appealing."
Read the full article in Packaging Strategies Today. For more information about the Ryson Bucket Elevator, your can visit our information page. You can also download the spec sheet, or read about current applications in our weekly news blog.