Bucket Elevator for an Industrial Application: Last week an industrial aluminum company came to the Ryson facility for equipment inspection and product testing of a Bucket Elevator they had ordered. They returned home having been impressed with the quality, simplicity of design, ease of maintenance, and durability of construction.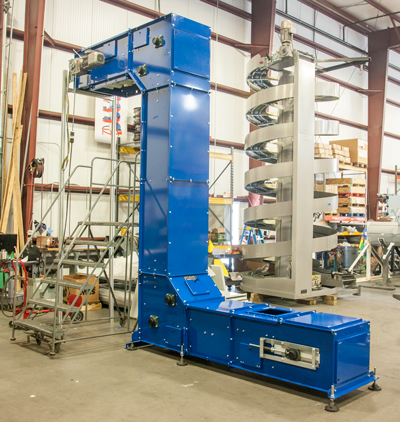 This Ryson Bucket Elevator is for conveying small aluminum 'Chop' up, over, and then to be fed into furnaces to be remelted and processed into solid aluminum billets.  The projected volume of 'Chop' is approximately 5500 lbs/hour with a density of 75 lb/cu. Ft.
The Ryson series Z-200 elevator will easily handle not only the volume specified but will easily handle increased volume as they continue to grow and solidify their position in the market.
Because of the Bucket Elevator's modular design, only a portion of the machine was assembled for shop testing. Once installed, this machine will be 43′ long and 27′ high. This is also a great advantage for shipping and assembly as the unit can be shipped on pallets.
The Ryson Bucket Elevators are designed for heavy duty operations and long life… Ideal for an industrial application like this.  The chain is a 2" plated roller chain with hollow pin shaft and 11/8 " diameter rollers. The rolling surface is made of polyurethane assuring smooth and quiet operation.  The buckets are made of food grade reinforced polyamide, molded in one piece and can handle temperatures from -5 to +210 degrees Fahrenheit.  Flanges are provided at the inlets and outlets to facilitate easy attachment of extended funnels, shoots or tubes.
For more information on the Ryson Bucket Elevators, visit www.ryson.com, download the specifications sheet, or read application stories on our weekly news blog.