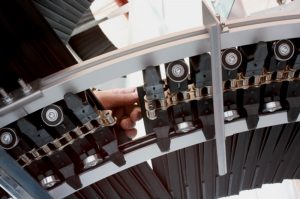 The proprietary chain slat arrangement is one of the key features of the Ryson Spiral Conveyor design. This fundamental principle does allow rolling friction for a smooth, reliable and efficient vertical conveying system.
This design works much like a modern roller coaster car. A heavy duty steel roller chain pulls the conveying surface. Additionally, slats get support by precision steel roller bearings that ride on a polyurethane surface.  This arrangement therefore effectively takes up the side forces created by a tight radius. It also increases the load carrying capacity, without any sliding movements or wear strips.
Ryson's rolling friction design brings a lot of benefits including the following:
The stress on the chain is minimized, assuring long life.
The spirals can convey very heavy loads up to 75 lbs. per foot.
The spirals can start and stop fully loaded with a maximum weight of 3,600 lbs.
The maximum speeds can be up to 200 fpm fully loaded.
Only one drive motor required.
Energy consumption is minimized.
No need for oilers or wear strips.
Very quiet operation, under 75 dB.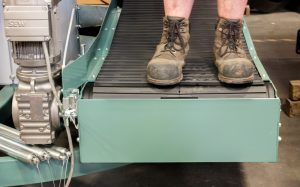 The materials used for the slats are very rigid. Additionally, the rail support structure handles all the weight from the center. This does eliminate the need for weight support on the edges. A fully loaded spiral with wear strips would add considerable drag.
Customers notice and appreciate the superior design of the Ryson Spiral Conveyors. Because reliability, efficiency and uptime are key factors, and important to the system's operation.
Our modern manufacturing plant in Yorktown, Virginia is where Ryson Spirals are crafted. For additional information on our modular spiral conveyor design and application specific questions, visit our Spiral Conveyor Page. You can also read about them in our weekly blog, watch some informative videos on our YouTube Channel or give us a call at 757.898.1530.