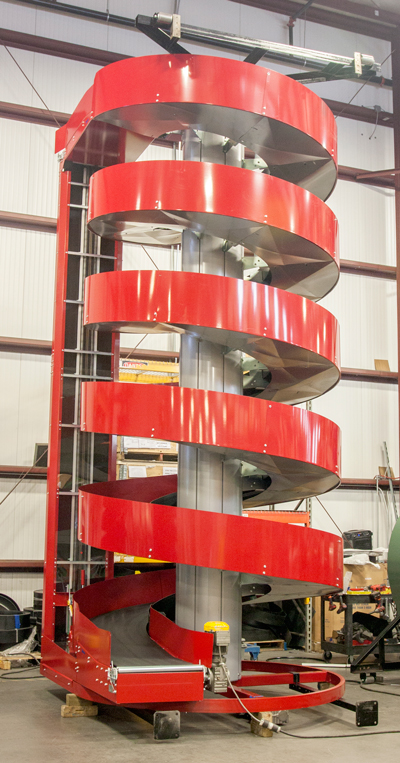 All Ryson Spirals are made to order, based on the product being conveyed and the elevation change required. We also offer a wide variety of options, including additional height outside side guards (12" here) and an inside guiderail, which we did on this machine.
Next week, we'll ship this 18'-6" tall spiral. Our model 1700-600 was specified for declining plastic totes in an automobile parts distribution center by our Integrator partner JMP Solutions.
Pre-wired controls, finish options (painted /stainless steel), extended infeeds are only a portion of what we can provide to best suit our customer's applications.
Ryson Spiral Conveyors are being used in a rapidly growing number of small and large companies across a broad spectrum of industries. Our spirals effectively handle any conveyable loads including bags, bundles totes, trays, pales, cans, bottles, containers, wrapped and unwrapped items. Each industry has it's own set of requirements that Ryson can satisfy through our custom options.
For more information on the ways Ryson Spirals are made to order and options available, visit our Spiral Information Page, or you can specify specific requests on our Request for Quotation form. You can also browse our News Blog for application stories that highlight our custom options.