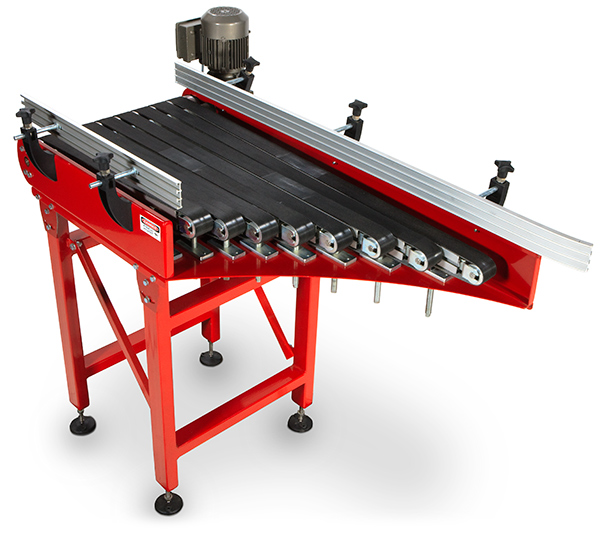 Adding Induction Level to Existing Spiral Conveyor: Ryson has on occasion designed spirals to facilitate modifications to accommodate future growth.
Last week Ryson added an induction conveyor to an existing spiral already installed. The end-user, a Distribution Center specializing in in-home delivery of Grocery items, had originally outfitted their distribution center with a Ryson High Capacity 1700-600 Spiral Conveyor with a discharge height 27'-9" off the floor. As their activity increased, they began picking from the second level of their 3-level mezzanine.
With the anticipated growth realized, they entered phase two and installed a Ryson High Speed Induction Conveyor to load cases and totes into the spiral at their intermediate pick induction  level.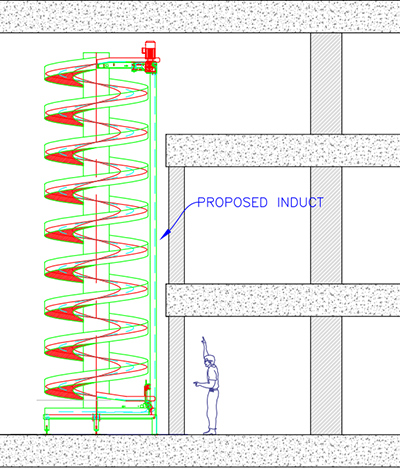 We drop-shipped the induction conveyor as a kit, complete with a new notched side guard, adjustable legs and it's inverter-rated gearmotor already mounted. Our Service Department supported the project with written instructions to insure the unit was properly installed.
For more information on using a Ryson Spiral Conveyor for multible level product flow, download our multiple infeed product spotlight or visit www.ryson.com.