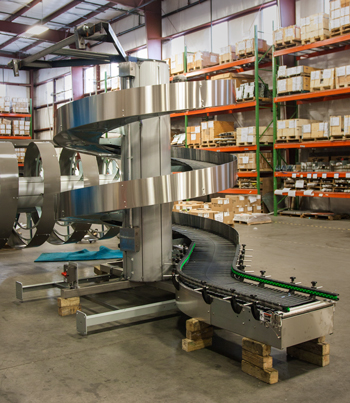 This week Ryson is shipping a vertical conveyor that highlights some of the spiral benefits of our brand.
This Unit Load Spiral will be installed into a production line of a leading yogurt manufacturing company.  To save valuable aisle space on either side of the spiral's diameter, the integrator specified the spiral constructed with a curved extended infeed which allows their production lines to be compacted, while providing the necessary aisle space between the lines for everyday operations.
To minimize implementation time once delivered, we also pre-wired the spiral with a motor disconnect (mounted at the base) and wired the two proximity switches (slack chain and motor overtorque safeties – standard on every Ryson Spiral) to a terminal box mounted on the center column.
This spiral is our 1600-500 model with a 20″ wide slat surface. It was specified in our Hybrid washdown finish, running at a speed of 120 feet per minute. Because it will be installed in an area with sloping floors it is also outfitted with swivel-style stainless steel legs.
Our Integrator partner for this project is Kaufman Engineered Systems. For more information on Ryson's Spiral benefits , Visit www.ryson.com.