A Big Spiral for a Big Job
A few weeks ago we shipped one of Ryson's largest and tallest spirals ever built. One for the records. This big spiral unit is a Wide Trak model 3000-900 (13' foot in diameter). It features 6 turns with a 40' feet elevation change.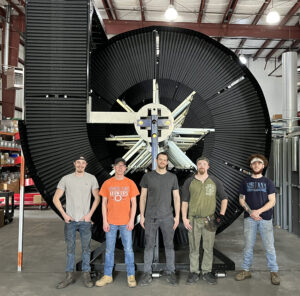 This spiral conveyor handles a variety of products with maximum dimensions at around 30"x24"x36". It can also handle a maximum unit weight of 60 lbs. The spiral has a conveying surface length of 200' linear feet and is still run by one single motor. The spiral's maximum load capacity is 3,600 lbs. Additionally, it can start and stop with no issues when fully loaded.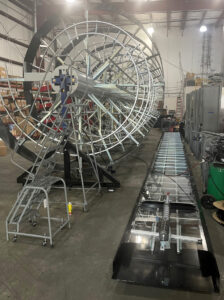 The design and construction of the spiral matches all the Ryson standards. This includes the modularity, flexibility and simplicity of our products. They are also the largest in our product line.
This unit is being installed and integrated by our integrator partner Abel Womack for a well know plumbing and HVAC distributor.
The  Ryson Wide Trak Spiral Conveyor is in response to our customers' need to handle bigger loads and reach higher elevations. For additional information about our big spiral – the Wide Trak – visit our website, where you can download the spec sheet and read about more application stories in our weekly news blog.
Lastly, we recently published a free white paper . It illustrates how spirals like these are instrumental in warehouses that are looking to go vertical to combat real estate challenges.