This week we are returning a reconfigured and reconditioned 15 year old Spiral Conveyor back to a bakery in the Midwest.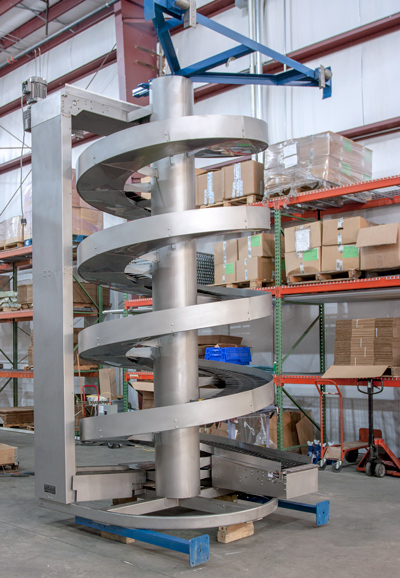 This 15 Year Old Spiral is 14′-6″ tall counter-clockwise stainless steel spiral with 4 1/4  turns, handling trays and has been in operation for over 15 years. The spiral was reconfigured in our Yorktown production plant from an up spiral to a down spiral (lowerator).Upon reinstallation, the spiral will be used in a new packaging line.
This is an example of our claim of our products having a long life and how we can reduce our customer's total cost of ownership. The Ryson modular design makes it easy to field modify our spirals  in case of unplanned installation changes or to reconfigure and repurpose the spirals at a later date.
Our business philosophy is simple: Focus on quality and service. Take good care of our customers and employees.  Our value proposition is to provide products that have a low total cost of ownership.
Ryson Spiral Conveyors need less floor space than conventional incline conveyors and are faster and more reliable than any elevator or lift.  They are especially well suited for Consumer Packaged Goods companies and any warehousing operations.  All Spirals are available in powder coated carbon steel, hybrid, stainless steel, wash-down and freezer versions.
If you would like more information about our spiral conveyors please visit www.ryson.com. You can also read more about or repurposing projects in these blog posts. We also have many application specific videos on our own YouTube Channel.