The Ryson Wide Trak Spiral Conveyor is an ideal solution for multi-level warehousing operations.
Next week, Ryson will be shipping two Wide Trak (WT) spirals model 2200-760 to a leader in home furnishing retail through one of our integrators, Warehouse Solutions Plus, in conjunction with Prime Conveyor, Inc.
These spirals have a elevation change of around 14' and will be installed at their latest and state of the art Distribution Center of 1.25 Million square feet.  The WT is a perfect fit for this application, because of its ability to convey various size cases as long as 32" and as heavy as 70lbs. The end user also required the facility to utilize high energy efficient solutions.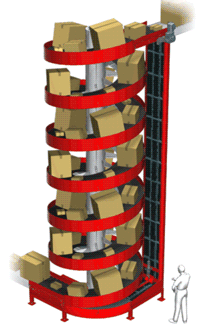 The 2200-760 WT spirals have a 30″ wide conveying surface and are in response to our customers' need to handle bigger loads and reach higher elevations. This model is very attractive in the Warehousing and Distribution Center applications. The WT can reach high elevations up to 50ft and can operate at high speeds up to 200fpm.
These spirals can also be configured to allow the loads to enter or exit the spirals at intermediate elevations, ideal for multi-level warehousing operations. The Ryson Spirals are energy efficient and can help lower the total cost of ownership in many ways.
If you would like more information on the Ryson Wide Trak Spirals, visit www.ryson.com, download the product spec sheet, or read more application stories on our weekly blog.