Next week we ship this special Wide Trak Spiral to a food manufacturer in the Midwest. It is designed to operate in a wet environment.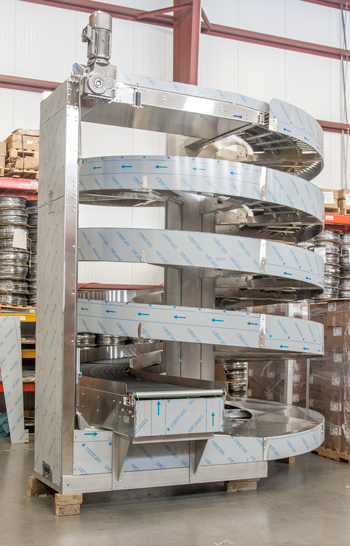 This spiral is the stainless steel version of our new Wide Trak model 2200-760. It features a 30" wide slat surface and stainless steel bearings, which allows it to operate in a wet environment.
The spiral is a incline conveyor, elevating frozen wrapped pizzas from a spiral freezer discharge at 3'-0" up to mezzanine packaging operation at a 12′ – 0″. The pizzas run single file or two abreast at rates up to 120 per minute. The Ryson Wide Trak Spiral models feature either a 30" or 36" wide conveying surface. This model spiral is perfect for this kind of freezer application.
 The spiral will be shipped partially disassembled so that the largest sections can fit through passageways and under the newly installed drop ceiling in the installation area. The spiral will be re-assembled on site by one of our experienced service technicians, along with the on-site installers.
For more information on Ryson's new line of Wide Trak Spirals, visit www.ryson.com, download the spec sheet, or read more application stories on our weekly blog.