Wide Trak Installation: The Wide Trak spiral is one of the few models that ships partially disassembled depending on the configuration and requires a Ryson tech on site for re-assembly supervision.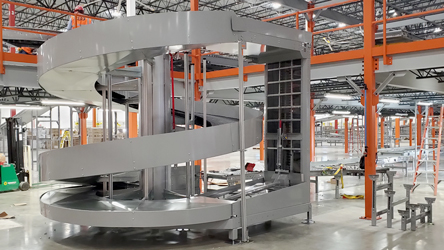 Last week a Ryson Service Tech supervised the Wide Trak installation at a distribution center for a major retailer in the Chicago area. The integrator partner on the project was The Wynright Corporation. 
The 3000-900 Wide Trak Spiral was shipped on time, re-assembled and positioned in place prior to connecting it to the rest of the conveyors leading to and out of the spiral.
Our new 36″ wide overlapping slats are designed to handle big and small loads. The system is designed to handle loads as big as 28″ wide, 42″ long and 40″tall.
Ryson utilizes its 1" high capacity chain that can run at a maximum speed of 200 FPM and 3600 lbs. when fully loaded. The spiral's design is similar to any other Ryson spiral with its safeties, modularity and easy installation and integration to the rest of the system.
For more information on Ryson's largest model spiral, visit ryson.com, download the product literature or read more application stories on our weekly blog.