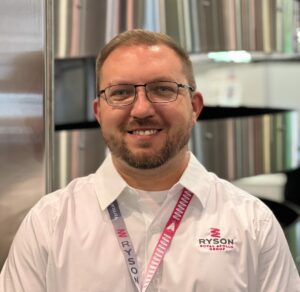 We are thrilled to introduce our newest addition to the Ryson Sales Team!
Welcome Adam LaRock: He will be our area sales manager for the Midwest. Adam hails from a charming suburb of Milwaukee, Wisconsin. He brings with him a wealth of experience, enthusiasm, and a passion for our industry. He will be the sales team point of contact for customers in a wide radius of the cheese state.
About Adam
Adam is no stranger to the world of conveyor systems. With his background in sales, he has dealt extensively with conveyor systems, vertical reciprocating conveyors, automated storage and retrieval systems, and mezzanines. He has successfully worked with both integrators and end users, showcasing his expertise and adaptability in the industry.
Adam's arrival at Ryson is a significant milestone for us. His experience and passion align perfectly with our commitment to excellence in vertical conveying solutions. As part of the Ryson team, he'll play a pivotal role in delivering top-notch conveying solutions to our valued clients in the Midwest. Working remotely out of Wisconsin. he'll also be able to be the local contact for our customers in this area of the country.
As one of his first experiences in the company, Adam was able to visit Pack Expo 2023 with our team.
Sales Team Training
Ryson International is a leading name in the conveyor system industry, known for its innovative Spiral Conveyors and Bucket Elevators. We pride ourselves on providing cutting-edge technology that optimizes space, improves efficiency, and enhances productivity for a wide range of industries. We also focus on customer service and working with our customers to proved smart solutions custom tailored to application requirements.
As such, Adam is at Ryson this week learning how to build Spirals on our production floor. Working in the shop is naturally an invaluable tool that all new hires must go through. Not only does it create intimate familiarity with our products, but it is a fantastic team building exercise. He will also spend time with our sales team and how to streamline the proposal process.
You can find out more about the Ryson equipment he will be selling. He will also be at the Ryson Booth at Process Expo next month. It's a perfect opportunity to meet him!
Finally, we are very excited to have Adam join our sales team and contribute his skills and dedication to our mission of revolutionizing material handling. Adam, we warmly welcome you to the Ryson family. Additionally, we and look forward to accomplishing great things together. Your passion for the industry and your commitment to excellence make you a valuable asset. We look forward to see what the future holds for us all.
Welcome aboard, Adam!