This week we're shipping one of our hybrid wash-down Narrow Trak Spirals to a food products company.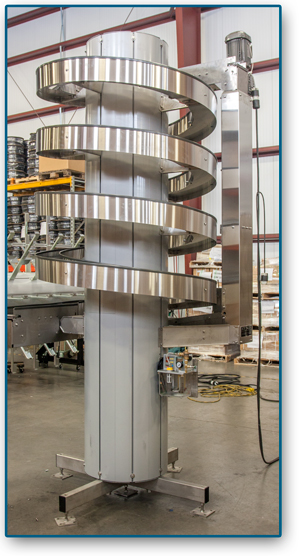 This model 1100-150 spiral will be used to incline packed cheese loafs about 6 feet to an overhead conveyor. The spiral will transfer 100 loaves per minute with the spiral running at 150 FPM.
Because the spiral will be installed in a wash-down area, the spiral is equipped with our new Solid Lube Bearings that are impervious to the cleaning solutions and methods used in food processing areas. The spiral is also outfitted with an automatic chain lube system that the customer will use to re-lube the drive chain after every cleaning event.
The Ryson Narrow Trak Spirals are great space savers with high throughput that can run at speeds in excess of 200 fpm. The Narrow Trak Spirals offer a significantly larger elevation change capacity than what is currently available in the small package marketplace. They are also a good alternative to side gripper conveyors because they can run at high speeds and do not need to be adjusted for varying product sizes.
For more information on the Ryson Narrow Trak Spirals, visit www.ryson.com or read more application stories on our weekly blog.