This year, because of the pandemic, Pack Expo Connects will be a virtual tradeshow. PMMI has done an amazing job of scrambling to get this first-ever event up and running.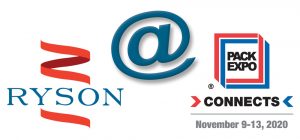 Ryson will be very involved in Pack Expo Connects and have prepared many new materials that will be unveiled during this show. We are also excited to have our materials ready for people that would not ordinarily be able the attend a physical Pack Expo. Anyone can register for free, so be sure to ENTER Promotional Code 46R84.  You will be able to log in and visit the Ryson Virtual Showroom, along with all the other exhibitors.

Ryson will be making 8 presentations the week of the show (November 9-13). You will be able to add them to your itinerary. It is an awesome opportunity to reach out to our customers in an unprecedented way.  The following is our product demo schedule:
How 25 Years of Experience have Refined Vertical Conveying.  11-9 11:30 AM CT, and 11-11 1:15 PM CT

Speaker: Ole Rygh – President and CEO, Ryson International As Ryson Celebrates their 25th Anniversary, we look back at how a simple space-saving solution to vertical conveying grew to be essential equipment in so many different applications. From CPG's to Warehousing and Logistics, Ryson's Solutions have grown to solve many vertical conveying challenges across many industries.
Benefits of Spiral Conveyors for Food and Beverage 11-12 10:45 AM CT

Speaker: Steve Dillaman – Vice President, Sales Ryson's Spiral Conveyors are ideal solutions to vertical conveying at any point in your process – from receiving raw material, through filling, to final packaging and storage. They also offer many features that are well suited for the Food and Beverage Markets.
Preventative Maintenance and Tips for Extending the life of Ryson Spirals. 11-10 11:15 AM CT, and 11-12 1:30 PM CT

Speaker: Doug Glass – Service Manager When Ryson Spirals are properly integrated and maintained, they can be the most reliable component in any system. Learn about their proper preventative maintenance and top tips for extending the life of your investment and help lower your total cost of ownership.
The Impact of Spiral Conveyors on the Supply Chain 11-11 11:15 AM CT

Speaker: Taoufik "TK" Haddadi – Account Manager Ryson is all about vertical conveying within a small footprint. With our ability to induct and divert out of our spirals at intermediate levels, Ryson spirals are perfect for e-commerce, warehousing and supply chain applications. Their reliability and longevity keep operations moving and help reduce your total cost of ownership. 
Vertical Conveying Solutions in the Rapidly Changing CPG Industry 11-10 12:30 PM CT, 

Speaker: Jerry Piggot – International Sales Manager Ryson Spiral Conveyors offer several key benefits that are useful in the fast paced and ever-changing CPG environment. Learn how our modular design simplifies reconfiguring, so you can quickly adapt your production lines, or repurpose them to meet the ever changing demands of your market.
To help promote Pack Expo Connects, and to help prepare you for the experience, PMMI put out this video.