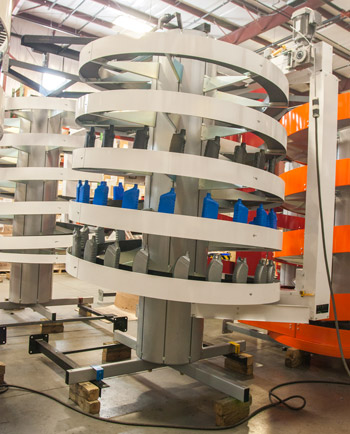 Up and Over Concept Frees Up Floorspace: This week we're shipping two of our Narrow Trak Spirals that fill a rather frequent application for our spiral conveyors: Free up floor space by taking empty plastic bottles from a bulk de-palletizing area, up single file, to an overhead conveyor and back down to the filler.
Our Narrow Trak 1700-150's have a 6" wide slat and they are built to allow the bottles to side transfer in and out to and from Arrowhead's flush-mounted table top conveyor. By inclining to the overhead, the end-user frees up floor area for movement of raw materials and finished goods. The spirals are running at a speed of 130 FPM with a bottle transfer rate of 250 per minute. The spirals have an upper elevation of 9'-6" and are powder coated with a standard white color.
Our Integrator Partner on this project is Arrowhead Conveyor Corporation. If you would like more information on our new line of Narrow Trak Spiral Conveyors, visit our website, download the NT spotlight, or read more NT Spiral stories on our weekly blog.