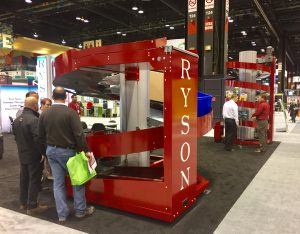 This week Ryson is exhibiting at two trade shows at the same time, in the same convention hall. We also officially unveiled our brand new Wide Trak Spiral Conveyor.
The Promat show caters to the warehousing, distribution and logistics markets, and Profood Tech covers the food and drink industry.
We unveiled our Wide Trak Spiral Conveyor at Promat. It has our widest slat width to date – a 30″ wide conveying surface. It can also have an elevation change in excess of 40′, and be configured with intermediate entry and exit points. This makes it ideal for multi-level distribution centers and warehouses.
If you would like more information on Ryson's new Wide Trak Spiral, visit www.ryson.com or download the brochure.