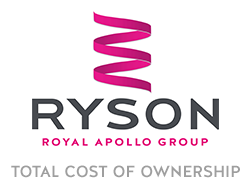 Ryson's spirals are designed and manufactured to provide a lower total cost of ownership (TCO) when considering all costs associated with owning and operating equipment for vertical transportation of goods; initial price, shipping, installation, operation, maintenance, consumables, and reconfiguration.
Capital equipment acquisition in many ways is analogues to an iceberg.  Most of the focus is on the readily visible part, the initial purchase price, however much more lies hidden beneath the surface and requires some investigation to ascertain.  A "Total Cost of Ownership" analysis reveals many hidden costs that can occur in: Shipping, Installation and Startup, Facility Requirements, Maintenance, Consumables, Utilities, and Removal or Reconfiguration.
A good example of these concepts would be two vehicles, one with a low purchase price but that gets poor fuel mileage and requires frequent costly maintenance verses another that has a higher purchase price but that gets good mileage and requires infrequent maintenance with reasonably priced components.  Obviously the first will require less initial investment but with time it will cost more to "own" especially if used frequently and for long distances.  If you include other less tangible costs like loss of use, or substitution costs, when the resource is unavailable because of repair and incidental costs like towing when the vehicle unexpectedly breaks down, the total cost of the initially less expensive option becomes rapidly more expensive to own than the other option. 
End of life or usefulness costs also need to be considered.  The cost, or return, of disposing of or modifying the unit needs to be considered in the TCO.  For example if a truck is being used to transport materials and after three years the requirements change and the truck is no longer suitable as is, the truck must be replaced.  However, if the bed of the truck can be modified for a reasonable amount, the useful life of the truck is extended, potentially significantly reducing its total cost of ownership.
The industry group PMMI working with the OpX Leadership Network facilitated a group of Consumer Packaged Goods companies and suppliers to these companies to develop a process that outlines developing a TCO analysis.  This document is available at https://www.opxleadershipnetwork.org/ for reference.
Many of the design features of Ryson's spirals provide the benefit of addressing TCO.
The small footprint reduces the space required to vertically transport product.
Overlapping slats provide a continuous conveying surface that provides high throughput.
Rolling slat support removes sliding so lubrication is not needed and power requirements are reduced.
The modular design allows the spiral to be reconfigured for a fraction of the price of a new spiral.
The bearings are sealed for life and automatic chain tensioning reduce maintenance requirements and make maintenance scheduling predictable.
Horizontal infeeds and outfeeds provide the gentlest possible transitions for the product being handled.
Many more.
It is beyond the scope of this introductory blog to cover these and other features in detail.  You can find more information in other associated Ryson blogs or by contacting Ryson at sales@ryson.com. Our Vertical Conveying Solutions Video (below) goes into some more detail on how Ryson Equipment can help with cost savings.