Stainless Steel Options for the Narrow Trak Spirals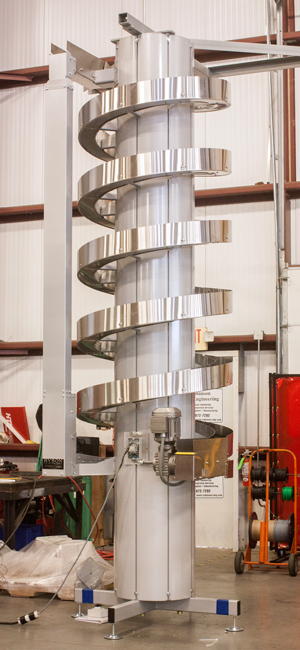 This week we are preparing two new NT (Narrow Trak) spirals with stainless steel options for a customer factory acceptance test (FAT). The spirals will be transporting plastic tubs of personal care products for a major consumer products manufacturer.  To prevent marking of the product at the line speed of 200 feet per minute, we are providing the spiral with stainless steel side guards on the inside and outside. This also gives the machines a sanitary appearance and matches well with the stainless steel table top conveyor adjoining the down spirals in the line.
This combination of stainless steel and powder coated finishes has become so popular in this model that we have adapted it as a standard option.  This model is also available in a hybrid stainless steel version. The NT is ideal for small loads with it's 5″ wide nesting slat design and saves considerable floor space with it's 3'9″ outside diameter. For more information on the Ryson Narrow Trak (NT) Spiral Conveyor, visit www.ryson.com, or you can download the NT spec sheet.