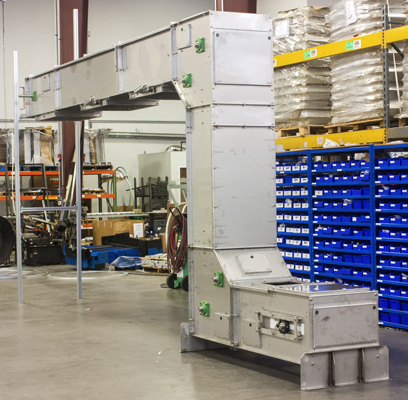 This week we are shipping a stainless steel wash-down bucket elevator to a food processor in Texas. The unit handles shelled peanuts from the roaster to the processing lines at the rate of 5,000 pounds per hour. This is a totally enclosed bucket elevator with one inlet in three outlets that can be selectively operated.
This feature makes it possible for one bucket elevator to service three different processing lines. In fact, the last outlet is in a separate room and the horizontal section extends through a wall.
Ryson bucket elevators are designed for heavy-duty operation yet provide gentle product handling. They can be equipped multiple in and outlets. Pivoting buckets are overlapping at the inlets and can be selectively tipped at the outlets. The stainless steel option allows food product to be conveyed, complying with FDA standards.
For more information on the brakes and bucket elevators, please visit www.ryson.com or download the product brochure.