When you think of Ryson Spirals in filling operations, typically you'd think of our Mass Flow Spiral Conveyors. Here is a clever operation utilizing our Case Spirals.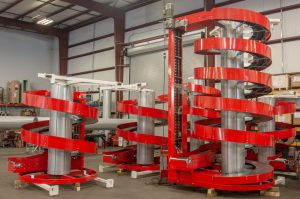 This week we shipped five spirals to a Distillery in the upper Midwest. The plant engineer utilized our 1500-400 model spirals for a new production line.
Incoming cases with empty glass bottles decline (Spiral #1) from a case depalletizer- feeding an un-caser. The empty cases are then feed onto an up spiral (Spiral #2).  The cases are  conveyed across the plant on an overhead conveyor to a Case packer.
The bottles are then removed from the boxes, filled and put back in the same box. Next, they decline back down (Spiral #3). The packer discharges to an up spiral (#4), which conveys the sealed cases of liquor up into another overhead conveyor. Finally, cases with filled bottles decline (spiral #5) to the floor level and out to a Robotic case palletizer.
For more information about Ryson Spiral applications in filling operations, check out our weekly news blog. Find out more about Ryson Spirals in the Food and Beverage Industry in this video.
The Ryson Unit Load Spiral Conveyors – or case spiral – convey cartons, cases, trays, totes and all sorts of packaged goods up or down in a continuous flow.  They feature a small footprint, high speed, low noise, low maintenance and a long life. Ryson Spirals are available in powder coated carbon steel, stainless steel, hybrid and freezer versions.