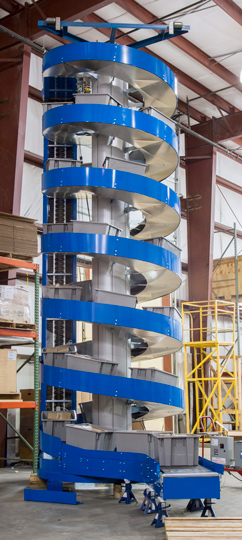 Vertical Indexing: This week Ryson will be shipping this 21 foot tall model 1600-500 spiral conveyor to Texas, where it will be used in a processing operation.
This spiral will be used to stage totes of granular material that will be elevated to a mixing operation on an adjacent mezzanine platform. Products are indexed forward in batches and the spiral produces a dynamic storage capable of holding up to 30 totes at any one time.
The  factory acceptance test (FAT) was conducted by the end user's representative at Ryson's manufacturing plant on Tuesday and was punctuated by loading (30) 50 lb. totes into the spiral in an indexing fashion, to simulate their operation at the plant.
Our integrator partner, Lonestar Automated Systems used our spiral conveyor in their layout instead of a vertical case elevator because of our reliability in the dusty environment where it will be installed.
The spiral was ordered with pre-wired controls, including a local jog station, that gives the maintenance staff local control of the spiral during maintenance. The machine was also specified to be reversible, giving the end-user even more flexibility in their operation.
For more information on The Ryson Vertical Spiral Conveyor, visit www.ryson.com or download the product spotlight.