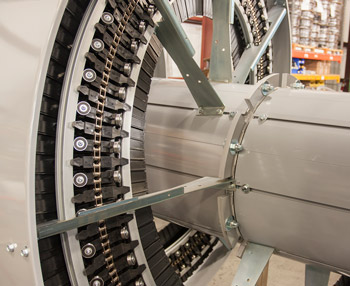 Ryson Modularity allows for special spiral splice to ship and install spirals in multiple sections.
This week we finished building (2) model 1500-400 spiral conveyors for our Integrator partner NCC Automated Systems. The spirals were specified to ship in three sections, because the end user's interior access doorway openings and installation area limited the shipping sizes of the spirals.
One of our technicians will assist their installers in the rigging and re-assembly of the machines at the project site. Once assembled, the spirals will be 24 feet tall and will convey sealed cases.
Ryson's modular design offers many advantages… Including the option for flanged sections of the center tube making a spiral splice, allowing the spiral to be shipped in sections. The main purpose for this is to assist in installation if the space is too small to stand the spiral up in one piece, or if the spiral is to span between two levels through a floor or mezzanine. The spirals were completely assembled and run in our manufacturing plant before they were  prepared for shipment in three pieces.
Read more stories on ryson multiple piece spirals, or get more information on www.ryson.com.