Ryson Spirals are faster, more reliable than a case elevator and requires a lot less maintenance. Ryson Spirals often replace older case elevators in existing plants as is the case at Aptar Beauty + Home.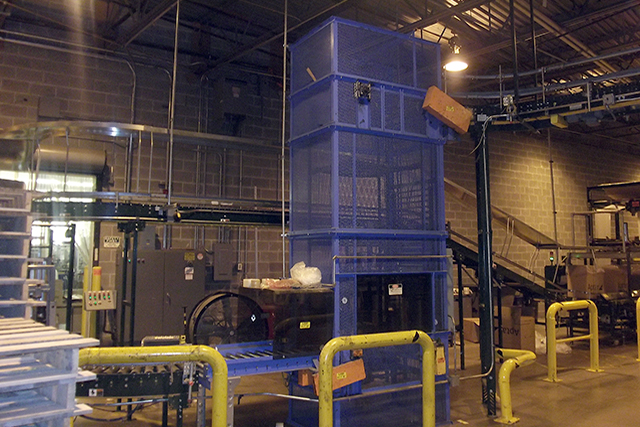 Jeff Danek, the Engineer at Aptar says "The previous elevator had out lived it's practical and cost effective life. Being of chain driven indexing design, it tended to wear components at an unacceptable rate.  Any effective maintenance or repair took substantial time and usually more than one individual. Our operation often runs 24/7, so performing even minimal preventative maintenance  is very difficult. "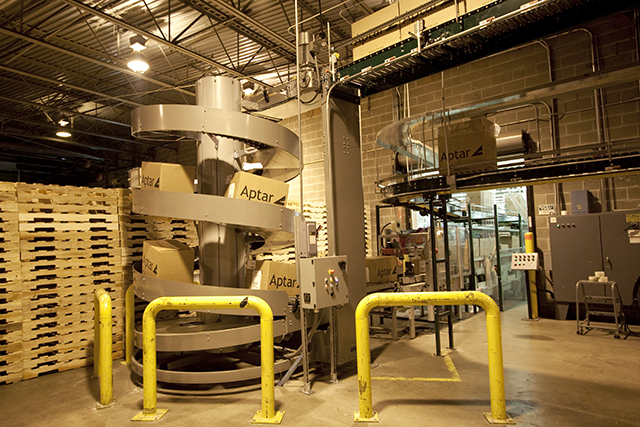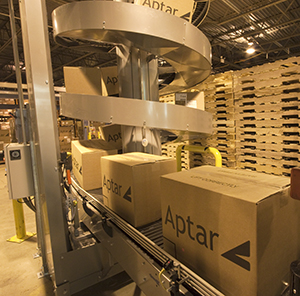 Jeff continues: "We were intrigued with the possibility of replacing the elevator with the vertical spiral concept but technical personnel were skeptical of the robustness of the design. After meeting with EPS – the integrator on the project, contacting a current user of a Ryson Spiral Conveyor and viewing units at Pack Expo, the maintenance personnel felt much more receptive to the idea. The vertical spiral conveyor design also allowed us to make layout improvements.The VFD reduces much of the wear and tear mechanically. It is very quiet in operation and is much easier to service. It integrated easily with our conveyor and palletizer system and installation went as planned. To date we are very pleased with the operation of the unit."
EPS – Engineered Packaging Solutions, LLC was the integrator on this project. Visit www.ryson.com for more information on the unit load spiral conveyors and other vertical conveying solutions.